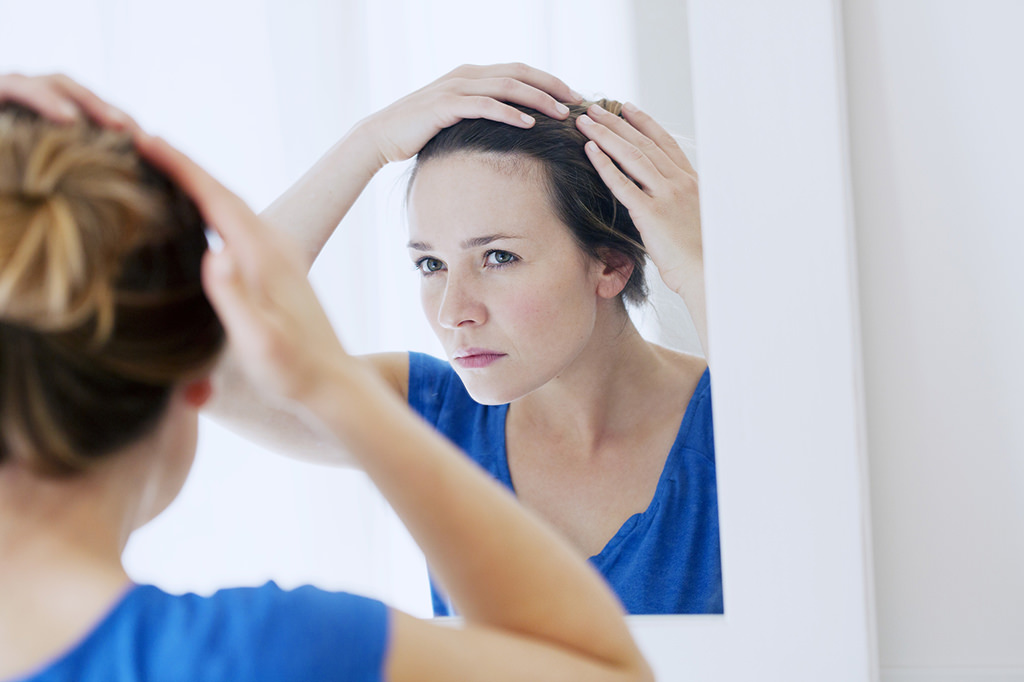 Hair loss in women
By Dr. Mark Korman MD FRCSC,
Hair Restoration Surgeon
As disconcerting as baldness can be for men, the emotional and social impact of hair loss on women can be devastating. Many of the women who come to see me feel frustrated, scared and alone. Fortunately, with modern techniques, most women can now be effectively diagnosed and treated.
Social expectations are different for women than they are for men. Most of my male patients recognize thinning hair as natural, albeit unwelcome condition. Conversely, a female patient that comes to see me is more likely to have significant anxiety about how hair loss is affecting her self-confidence, sexuality, career, dating prospects, or her attractiveness to her spouse. Many of my female patients have spent thousands of dollars on hair care products, styling, and a seemingly endless assortment of lotions and potions.
While not generally talked about, female hair loss is very common and can be particularly damaging to a woman's self esteem. More and more women are now recognizing the reality of hair loss and there is a worldwide trend toward women taking control and seeking treatment. It is a misconception that only men are candidates for hair restoration. According to a survey conducted by the International Society of Hair Restoration Surgery, 15.1% of surgical hair restoration patients in 2008 were women, up from 11.4% in 2004. In 2008, almost 32% of non-surgical hair restoration patients were women.
As in men, the most common cause of hair loss among women is inherited male pattern baldness, however the pattern in women is generally different from that seen in males. While female pattern hair loss can start early, it often begins later than the male variety and is more frequently, but not always, associated with diffuse thinning over the entire scalp with sparing of the frontal hairline. Many women complain that the part in their hair seems to get wider.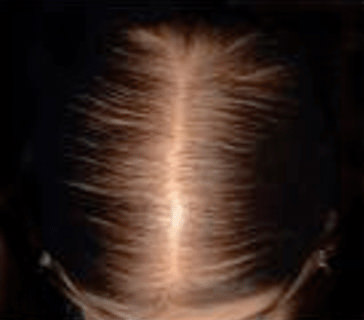 STAGE 2
shows widening of the central part
STAGE 3
shows widening of the central part and loss of volume lateral to the part line
STAGE 4
shows the development of a bald spot anteriorly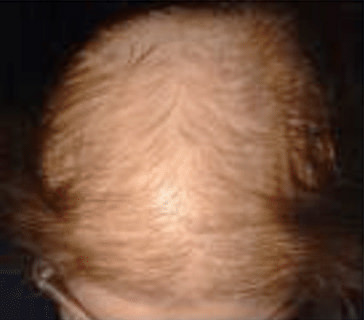 STAGE 5
shows advanced hair loss
When a woman develops significant hair loss, it should be investigated with a complete history and physical examination and appropriate medical investigations. This often begins with a woman being proactive and bringing the problem to the attention of her family doctor, gynecologist or dermatologist. Conditions that may need to be ruled out include iron or thyroid deficiencies or other hormonal imbalances. Hair loss in women can also be associated with factors such as recent pregnancy, long term pulling of the hair in pony-tails or tight braids, or use of harsh straightening techniques. While some causes of hair loss may require specialized treatment by an endocrinologist or medical dermatologist, the most common causes of female hair loss can often be effectively treated with medication or with surgical hair restoration.
The only medical treatment that has demonstrated effectiveness in high quality clinical trials and has been approved by the FDA for treatment of female pattern hair loss is topically applied minoxidil (Rogaine®). Topical minoxidil has been shown to stimulate new hair growth and to stop hair loss in both men and women with pattern hair loss. There is also evidence that low level laser therapy can have a beneficial effect. None of the witches' brew of herbal treatments, vitamin and nutritional supplements and other remedies that are touted on the internet and elsewhere as miracle cures have demonstrated efficacy in scientifically rigorous studies.
There has been increasing recognition of the role of hair transplant surgery for women. Modern hair transplantation involves redistributing hair from areas of the scalp where there is a relative abundance (such as the back of the head) to more cosmetically important areas where hair is noticeably thin. Hair restoration is performed as an outpatient using mild sedation and local freezing. Discomfort is minimal and serious complications are rare. When performed well on appropriately selected patients with realistic expectations, hair transplantation generally leads to very gratifying results with marked improvement in hair density.
In addition to scalp hair loss, modern hair transplant techniques can also be used to address hair loss in the sensitive eyebrow and eyelash areas (often caused by aggressive plucking) as well as to repair scars or hairline distortion caused by previous trauma or cosmetic surgery.
Fortunately more and more women are recognizing that effective treatment is available for their hair loss and are overcoming the anxiety and despair that frequently accompany thinning hair.